Vulnerable Group Development (VGD) Program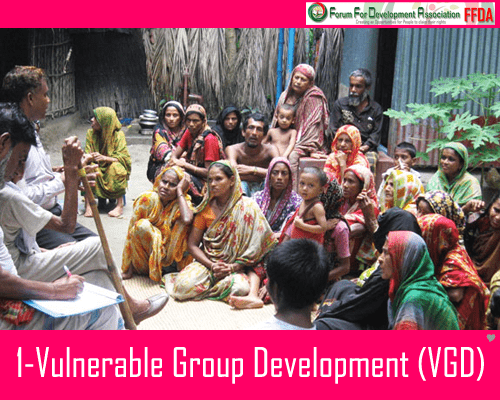 e project aims to improve the quality of life and enhance the productive income generating opportunities of Vulnerable Group development (VGD card holder) women and strengthening the activities of Department of Women Affairs, Ministry of Women and Children Affairs, to provide life skill training on Income Generating Activities as well as on Nutrition, Primary Health, Human Rights, AIDs, Reproductive Health, Gender, Environment issues etc.
The NGO aims to improve the socio-economic status of VGD women in Barhatta and Madan of Netrakona district . The main objectives are to build the income-earning capacities of VGD women and to socially empower them through training on awareness rising, provision of training on variety of income generation activities, provision of credit and other support services during and beyond the food assistance period.
Name of the employer: Department of Women Affairs, Ministry of Women and Children Affairs